9 Nigerian Musicians That Davido Has Helped Develop
Nigerian Musicians That Davido Has Helped Develop;
1. Mayorkun
When Mayorkun sang on Davido's The Best that he 'learnt from the best o, Davido, baddest o,' he wasn't merely singing but meant it. This is because prior to the moment in February 2016 when Mayorkun had uploaded his cover of Davido's Money, he'd simply been working a 9 to 5 as a poorly compensated banker while nursing dreams of becoming a musician.
Now he's the undisputed self-titled Mayor of Lagos and it all started from the moment he uploaded said cover on Twitter and tagged Davido who replied him and then listened to another cover which Mayorkun had jokingly referenced.
After that public exchange, Davido had then DMed Mayorkun to have a listen of his already recorded works and four days later, signed him into DMW.
Soon after, Mayorkun put out his breakout hit, Eleko and the rest they say, is history, with the singer establishing himself as one of the anchors of the music scene.
Despite leaving DMW in 2021, the Mayor of Lagos reclaimed his seat with no contention upon the release of his sophomore album, Back in Office all while still enjoying a relationship with Davido as self-claimed brothers.
2. Idowest
Whenever you hear of Idowest, you automatically recall his tag 'Idowest awon mafia!' This is because the rapper used to be one of three of a rap group known as M.A.F.I.A with members, C Blvck and Abramsoul. Together they'd put out Umbele and had peaked considerably with their Panda cover released in 2016.
Idowest's career had however taken a solo turn in May 2018 when Davido whose interest piqued after watching his freestyle videos, and following his Headies Award nod for the success of his Shepeteri hit, signed him to his DMW record label. Interestingly, Idowest had been shooting his shot at Davido for the past three years, DMing him on Instagram relentlessly and attending all his shows. He had finally gotten through to him after he'd freestyled on a track by DMW associate, Danagog.
Idowest has since put out two studio albums under the record label; Mafia Culture Vol.1 and Vol. 2.0. The latter which was released in March 2021 has since been doing numbers across streaming platforms, displaying Idowest's prowess as a fire-spitting indigenous street hop rapper.
3. MC Galaxy
During Davido's social media-shattering #1millionchallenge which saw him fundraise N200 million as cash gifts in anticipation of his birthday, MC Galaxy had upped the ante by gifting the star N3 million. Research on MC Galaxy's origin story would however reveal that he had good reason for gifting Davido so generously as the latter had helped him become a star.
A former dancer, Davido had rewarded him handsomely in Dollars for winning the Davido Dancing Competition in 2012. Afterwards, MC Galaxy had pivoted into music and his breakout hit, Sekem, was produced by a longtime colleague of Davido's, T-Spize, who was probably introduced to MC Galaxy through Davido.
Nevertheless, an even more noteworthy chapter with Davido in the cut happened to take place before his breakout on Sekem, has Davido had already pushed the Akwa Ibom singer into the limelight just the year before by featuring on his heavily cultural record, Nek Unek which had risen to smash hit status and currently has 30 million views on YouTube.
4. Peruzzi
"When I met Davido, the only thing I knew was how to write music, I didn't know anything about the music business," Peruzzi shared with media personality, Chude Jideonwo, sharing that Davido had posted a video of his single, For Your Pocket on his Snapchat even before they knew each other personally. This endorsement of his work had coincidentally come at one of the most trying times of the singer's life as he'd just lost his mother who also doubled as his best friend, and it had bolstered his faith in his craft.
Peruzzi's journey to meeting with Davido and eventually becoming a DMW artiste is however a multilayered one with several chapters. First, in a bid to meet up, Davido had gotten him his international passport and then paid for his flight but the money for the latter had fallen into the wrong hands due to an error on Peruzzi's part, so Davido had paid the sum twice.
Soon after in December 2018, Peruzzi put out his debut project, Heartwork, the first of three under DMW and there's been no looking back ever since. In fact, his Davido-featured song, Somebody Baby, off his latest album, Rum and Boogie, has been doing impressive numbers to ring in another hit for the Huncho.
5. Ichaba 
Davido's DMW label and 30BG gang is not only one of the most popular record labels and music collectives in the country but is a favourite of many music lovers as the acts are known to treat each other like bonded brothers thanks to the sociable nature of Davido himself.
This is why it's not common knowledge that Ichaba, known fully as Ichaba Lavish, who was commonly seen in company of DMW acts in previous years, was never an official DMW artiste as he was never signed but was simply an affiliate. Sharing this fact with hosts of TVC's The Splash, the singer had stated that despite his status he'd enjoyed all the perks like a signee of Davido's record label. These perks could be clearly seen from 2016 when he'd become introduced to the mainstream music scene on the back of his Davido-featured single, Baby Mama. Davido had also featured on another Ichaba standout track titled Man Must Chop.
Now moving as a solo artiste, the singer had before that, expanded his fanbase further with verses on DMW bangers such as Back to Back which featured Mayorkun, Dremo, Davido alongside himself as well as Dremo's Normal Levelz among other collaborations that featured DMW team members.
6. Yonda
A uniquely talented singer and songwriter, Yonda's unwavering passion for the music business had developed into a success story thanks to Davido who had made him a DMW signee. According to him, he'd remained adamant about doing music, at times being his only fan because he recognised his inimitable singing style from as early as age 8, even when his parents weren't impressed by it and were more appreciative of the mainstream sounds from popular acts. Yonda shared that their opinion of his music took a positive turn after he was signed by Davido.
This Davido effect had taken shape after he got signed to DMW in January 2017, following Yonda's days as an up and comer, performing at shows and releasing records under the radar. His official debut single, Las Vegas was released soon after he was signed and it got so much love, it earned him a remix with Burna Boy. From that moment on, Yonda has enjoyed love from fans with his debut album, Wild Blue, sealing his spot as an impressive act on the scene.
His songwriting skills also got spotlighted on Davido's Intro to his A Good Time album as it featured penmanship from Yonda that had gotten him further fan love and respect in the industry.
7. Dremo
Even as music consumption in the country switched from hip-hop templates to pop-leading ones, Dremo had broken out in 2016 off the back of his Fela rap single which had been a brilliant and infectious cover of Desiigna's Panda. Back then the rapper had been signed to A.P.P.E Records which had linked him to the former president of DMW, Sir Banko who in turn served as a conduit to Davido.
However, the ties had deepened when a turn of events led to Dremo recording the song which became his Fela single on Davido's laptop, and so it had actually served as his induction track into DMW as the latter became invested in Dremo's artistry.
In April 2016, it became official and Dremo alongside Mayorkun had become one of Davido's first signees to his DMW Record, since then, he's owned the airwaves with songs like Davido-featured Kpa, Konjinaba with Naira Marley and Mabel. His sophomore project, Codename Vol. 2 was also released under DMW to love from fans and media.
8. Liya
The latest signee and first lady of DMW, she'd been signed by Davido within 5 hours of his meeting her in early October, 2020. Coincidentally, they had been linked by Peruzzi after one of Liya's friends had played him her song. With a no-skips debut EP out with Alari, it's safe to say Liya is a star in rising, still Davido's influence on her artistry has been obvious from the very moment he announced her signing as her social media following grew exponentially. Davido also made a significant view-garnering cameo in the video of her breakout single, Melo where he walked her ceremoniusly after she was crowned as the DMW first lady.
Davido also helped to create a buzz around her Alari EP while it was a forthcoming project by posting about it on his social media where he has the highest follower count of any African celebrity on the Instagram app. Afterwards, he locked in a feature on her Lakiriboto song which is now the standout track of the EP.
Furthermore, the two singers took the stage in a campaign for cognac brand, Martell which Davido is an ambassador of and Liya's Lakiriboto had been the soundtrack of the campaign. It's safe to say despite being the first female signee of Davido's record label, the singer is in good hands and is dwell-poised for greatness.
9. Zlatan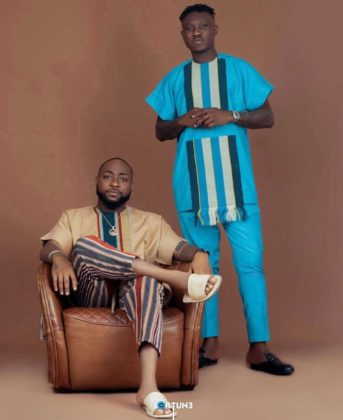 Once upon a time, people had thought Zlatan Ibile was signed to DMW due to his close affiliation with Davido and his DMW gang. He eventually cleared the air, stating that Davido was simply like family to him and was his helper. Indeed, Davido had gone above and beyond for the Zanku master, from posting a video of himself and E-Cool dancing shaku shaku to Zlatan's Olamide-featured breakout hit, My Body which had in so doing, amplified the reach of the song.
Additionally, when the case of young Segun Wire who'd gone viral from Zlatan's post where he was captured saying his dream job was internet fraud had erupted into controversy, with his family members accusing his benefactor, Zlatan of extortion, even going as far as beating him up, Davido had stepped in to back Zlatan up, threatening to retaliate on his behalf.
In fact, Zlatan's ties with Davido run so deep that the latter had gifted the former with a 40 carat necklace while reminiscing over his early years as an up and comer where he had supported him and flown him out to Dubai.
Prior to their long list of collaborations, Davido had also opened up his fanbase to Zlatan's artistry by having him open at his shows.